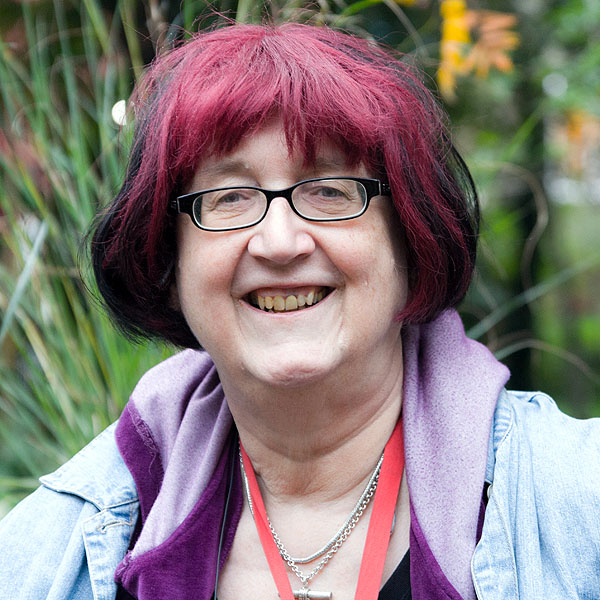 Roz Kaveney

She has been a professional writer since her twenties but is publishing her first novel Rhapsody of Blood - Rituals and her first collection of poetry, Dialectic of the Flesh, at the age of 63. Asked why, she says, "Well, I was quite busy."

Friends say it's hard to be out with Roz in Central London and not find yourself being randomly greeted by other people she knows. Some say this happens in New York, too, on the rare occasions when she goes there. This is because Roz's circle of acquaintance includes everyone from politicians to poets, art historians to dominatrixes, at least one serial killer to at least one Poet Laureate.

She helped negotiate changes to the law that helped trans people - Roz is a proud trans woman - change their legal status; she helped block a law that would have imposed stringent sexual censorship in UK bookstores.

She once rescued a flatmate from a Chicago mob hit.

She and Neil Gaiman once sold a two-book deal on the basis of a proposal they improvised in a meeting at which the publisher had turned their original idea down.

She discovered in the British library an unknown verse play by a major Victorian poet; later, she told this story to a leading contemporary novelist, who based an award-winning novel on it.

She knows that British Intelligence has a file on her - she's seen the letter in which an Oxford don denounced her to them as a subversive. She does not know what the don meant...

She co-founded both Feminists against Censorship and The Midnight Rose Collective. Look them up.

She's contributed to reference books that vary from The Cambridge Guide To Women Writing In English to The Encyclopaedia Of Fantasy.

She was deputy Chair of Liberty (The National Council for Civil Liberties), and active in the Oxford Union debating society, the Gay Liberation Front and Chain Reaction, a dyke SM disco she helped run in the 80s.

She's been on television talking about sex, alternate worlds and who should have won the Booker Prize in 1953 if it had existed then; she's been on radio talking about fan fiction and film music.

She was a contributor to the legendary Alan Moore anti-Clause 28 comic book AARGH! (Action Against Rampant Government Homophobia).

As a journalist, she's written about everything from the Alternative Miss World competition to the crimes of the Vatican.

Her acclaimed books on popular culture include Reading The Vampire Slayer; From Alien To The Matrix; Teen Dreams; and Superheroes.

"I was reared Catholic but got over it, was born male but got over it, stopped sleeping with boys about the time I stopped being one and am much happier than I was when I was younger."

She likes baroque opera, romantic string quartets, the music of Kurt Weill and Bruce Springsteen, the singing of Ella Fitzgerald, Ricki Lee Jones and Amanda Palmer.

She makes adequate chili, perfectly decent scrambled eggs, and a good cassoulet if she's got a couple of days.

She will write you a goodish sonnet in about five minutes if she's in the mood - sestinas usually take an hour.

When she grows up, she wants to be awesome.



---