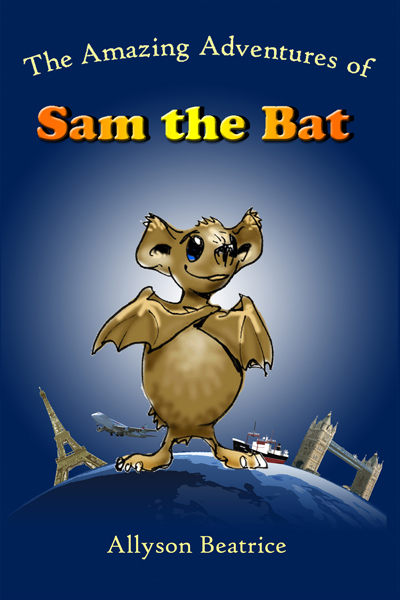 The Amazing Adventures of Sam the Bat
by Allyson Beatrice

About the Author

ISBN-10: 0-9844362-1-9
ISBN-13: 978-0-9844362-1-7

Trade Paperback
174 pages
$11.95 USD
Rights: World
Available: October 31, 2010

Buy This Book





About the Book

What is THE most requested bedtime story by forty three million, eight hundred and ninety thousand, two hundred and twelve baby bats around the world?

That would be The Amazing Adventures of Sam the Bat!

Young Sam, safe with his mother in the free-tail bat colony in the Southern California desert, learns all the stories of his tribe. The most famous is the tale of the lost colony, who flew east to escape a drought and never returned. The story says the lost ones found a new home, under a bridge over a river, but no one knows for certain.

One fateful day, Sam loses his own colony and home, and thus begins an incredible adventure: wee Sam, the baby bat, goes from the desert to the rainforests of South America, to a five-star hotel in London, to the towers of Notre Dame in Paris, to the other side of the world—only to find that sometimes, home is in the first place you should have looked, and sometimes, the stories are true.