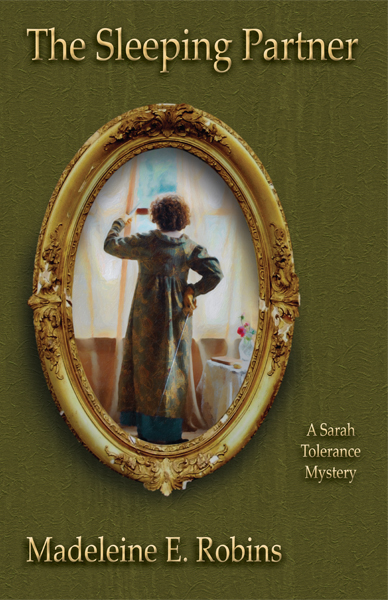 The Sleeping Partner
heralds the return of the serene and self-reliant Miss Sarah Tolerance, Fallen Woman and Agent of Inquiry. This time, Miss Tolerance is seeking not a missing trinket or the solution to a crime, but a living person - a young gentlewoman who has vanished from under her wealthy family's roof, apparently bent on a scandalous elopement with a mysterious man whom nobody knows. Her elder sister is desperate to find and forgive her - and Sarah, haunted by the similarities between this girl's story and her own, is determined to assist - but with nothing to go on but a false name and a small sketched portrait, the case is proving her most difficult yet.
As the search intensifies, Miss Tolerance must adversaries who will stop at nothing to keep her from finding the girl. And, more than she had ever expected, the mystery surrounding this young woman so like and yet so unlike herself forces Miss Tolerance to confront the voices of her own past, and to question what her future may hold.
Buy This Book
---
Reviews & Other Kind Words

At the outset of Robins's entertaining third mystery set in Regency London ( after 2004's Petty Treason), an upper-class lady using the pseudonym "Mrs. Brown" calls on Sarah Tolerance, a freelance "agent of inquiry" whom society deems a fallen woman because she eloped at 16 with her brother's fencing tutor. Mrs. Brown wants Sarah's help in locating her 16-year-old sister, Evadne, who has eloped, unwilling to remain in their father's house under his "harsh rule." Sarah, struck by the similarities between Evadne's situation and her own at the same age, searches for the missing girl in London's underworld, where she discovers connections to her own family and to a wider war-profiteering scandal. Colorful characters like Sarah's brothel-keeping Aunt Thea, cameos by such real-life personages as Mary Wollstonecraft, and the slow-burning romance between the quick-witted Sarah and close friend Sir Walter Mandiff all add to the fun.

- Publishers Weekly


Words cannot express how nice it was to be back in the company of Miss Sarah Tolerance. She is, without a doubt, my favorite guide through Regency London's lights and shadows. She's as tough and smart as any urban fantasy heroine one might care to mention, but it's her compassionate wisdom and intelligent, wry worldview that makes it impossible not to fall in love with her. I can't decide which would be more fun—to have tea with Miss Tolerance, or have her at my back in a scrap. Admirers of Sarah Tolerance will find much to celebrate in this smashing new installment—and those who have yet to meet the rapier-wielding Miss are in for a rare treat.

- M.K. Hobson


Madeleine Robins has written an engrossing and satisfying mystery with a richly detailed setting in an alternate Regency London, with a determined heroine who is skilled with sword and pistol and not afraid to use either. I highly recommend it.

- Martha Wells


I fell in love with Sarah Tolerance from the moment she picked up a sword. The Sleeping Partner hits all the sweet spots for me, mystery, manners, and mayhem with time for a cup of tea. The fact that the novel is set in an exhaustively researched alternate Regency, just makes it all the more enticing.

- Mary Robinette Kowal


Sarah Tolerance moves through her alternate-Regency London with style and skill—just the way her creator writes. A new Madeleine Robins novel? Let the rejoicing—and reading—begin!

- Emma Bull


I'm a big fan of the Sarah Tolerance books and am delighted to see a new one in The Sleeping Partner. In this page-turner, Miss Tolerance searches for a missing girl and pulls no punches with her clear-eyed look at the precarious position of women in her slightly-alternate-history Regency England. The Sleeping Partner combines mystery, adventure, suspense, humor, political shenanigans, financial chicanery, and – But that would be telling.

- Vonda McIntyre


I gulped this down in three evenings while on the road. A truly engaging style, a compelling plot, and I adore Miss Tolerance.

- Kate Elliot

It is such a delight to see Miss Tolerance back! The deft world-building, the subtlety of the alternate universe that delights one familiar with the period, but ought to pass right by someone who just likes the "feel" of the time. The mystery is as absorbing as the darker side of that elegant world, especially seen through Sarah Tolerance's sapient eye.

- Sherwood Smith



---
For more about the Sarah Tolerance Mysteries, please visit the series website at:

sarahtolerance.com